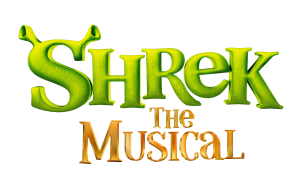 CenterStage's 2018 summer musical will be the fairytale for the modern age: Shrek the Musical, running weekends for 8 performances from July 27th to August 5th.
Performing with a live orchestra in the renovated John and Nancy Hughes Theater at our longtime venue, The Gorton Community Center in Lake Forest, Shrek the Musical will have four kids-and-seniors family friendly mid-afternoon matinee show times.
Shrek tells the musical story of a fearsome green ogre who just wants to be left alone to stew, roar, and make rude noises in his swamp, as ogres like to do. When the evil diminutive Lord Farquaad banishes the oddball fairytale characters Pinocchio, the Wicked Witch, the 3 Little Pigs, the 3 Blind Mice – and many more – from the kingdom of Duloc to Shrek's swamp, in order to return to his coveted isolation, Shrek is charged with his adoring friend Donkey with the quest to rescue the beautiful Princess Fiona from her tower for Farquaad's hand in marriage.
Based on the Oscar-winning, smash hit DreamWorks film (2001) and William Steig's 1990 book of the same name, Shrek is a monster-hit, must-see musical comedy that will delight audiences of all ages.
Director Debra Goldman and Producer Ryan Elliott, the team that created CenterStage's 2017's Brigadoon will return to CenterStage in Lake Forest to helm Shrek the Musical.
Don't miss your chance to be involved with this deliciously funny musical SHREK-TACULAR for big and little kids alike.