Perhaps the greatest of Shakespeare's comedies, Director Barbara J. Anderson's new 75-minute adaptation of MUCH ADO ABOUT NOTHING will tour parks in and around Lake Forest and Lake Bluff, performing on Saturday & Sunday afternoons at 4 PM, from August 11 through September 16.
Shakespeare's mid-career comic masterpiece, MUCH ADO paradoxically brings both the impetuous young love of Claudio and Hero, and the reluctant old love of Benedick & Beatrice to happy endings by way of trickery and deception–venomous on one hand, and laughingly well-meaning on the other.
Admission is FREE. Donations welcome! All donations benefit CenterStage in Lake Forest, a 501(c)(3) not for profit organization.
MAKE AN AFTERNOON OF IT. Bring blankets, lawn chairs, pack a picnic lunch, bring wine!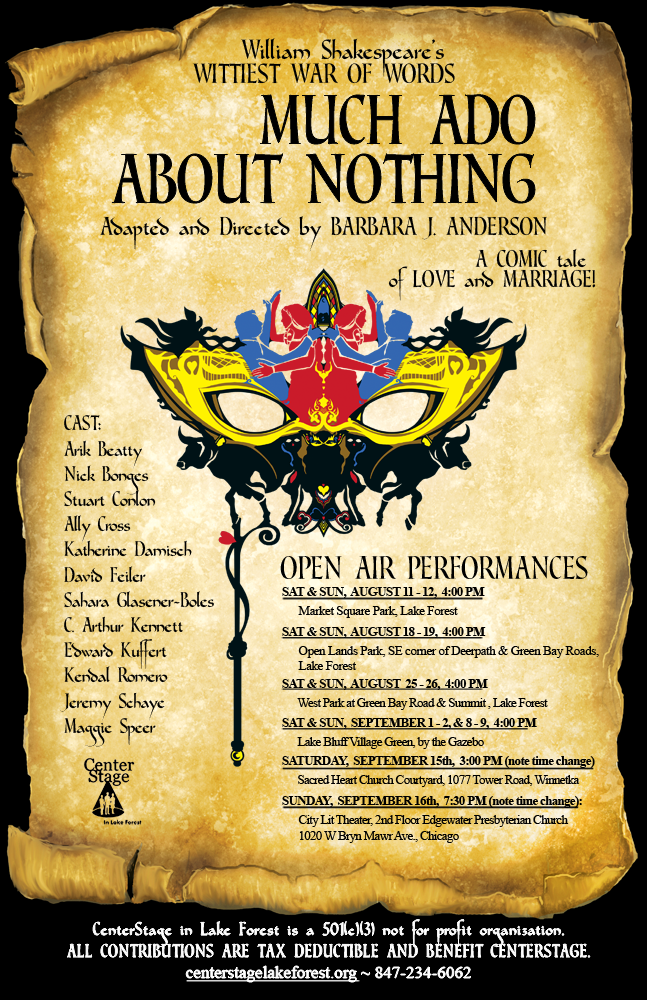 Go on to the next two pages for cast information, performance dates, times, and locations, and more!