Come join us at the Post Time Bar & Grille in Green Oaks for the 2nd annual
CenterStage in Lake Forest Oscar Night party!
Want to bet on your favorites, and make a little extra cash for CenterStage? Cast your ballot for our 50/50 Oscar Night sweepstakes!
Here's how it works:
To take part in the balloting, and bring home a winner's jackpot, all while contributing to CenterStage in Lake Forest, register to play at the Oscar Night Party for just $10.00 per ballot. The winner takes home 50% of the pot – with the other 50% going to CenterStage in Lake Forest!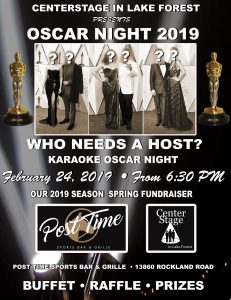 Join us on Sunday, February 24, for our SECOND ANNUAL Academy Awards-Viewing Party, at Post Time Sports Bar & Grille, 13860 Rockland Road (Rt. 176) in Green Oaks. Just past Rondout, on the way to Libertyville…. and slightly to the east and across Route 176 from the entrance to Lambs Farm. Scroll down for the Google map for the exact location.
Date: Sunday, February 24, 2019
Event Time: From 6:30 PM…?